The Atkins factory is thought to be the oldest surviving knitting firm in the world and the origin of the Atkins Firm can be traced back to 1722 with Robert Atkins (1702-1768) son of a yeoman farmer from Newbold-on-Avon.
Robert was apprenticed to a Brother of the Framework Knitters of London and after finishing his apprenticeship moved to Hinckley to manufacture hosiery under his own name. In 1740 Robert was joined by his nephew also named Robert, together they would have taken on apprentices, purchased raw materials and sold the finished products.
The four Atkins brothers John, Thomas, George, Hugh, Arthur and their mother Elizabeth Atkins shaped the building we see today. The factory was built in two stages; the original L shaped block was built between 1875 and 1877 designed by the Architects Goddard and Paget of Leicester. The accounts for the erection of new warehouses and premises are at Hinckley and District Museum dated 20th July 1877 and the building contractors were John and William Harrold of Hinckley at a final cost of £4,837.
In 1910 a fourth storey was added to the L shaped block and extensions to the rest of the site and on the 23rd May 1972 HRH Princess Margaret opened another major warehouse and office extension.
In 1995 the final member of the Atkins family in the firm Tom Atkins retired and the firm passed into the ownership of Coats Viyella who continued to manufacture until 2002. In 2008 Hinckley & Bosworth Borough Council purchased the Atkins building and renovated it in to a creative business centre which was opened by Councillor Stuart Bray (Leader of the Council) on Tuesday 28th September 2010.
Family Tree showing the early members of the Atkins Family who started the firm and built the Atkins Building which then remained in continuous family ownership from 1722 to 1995.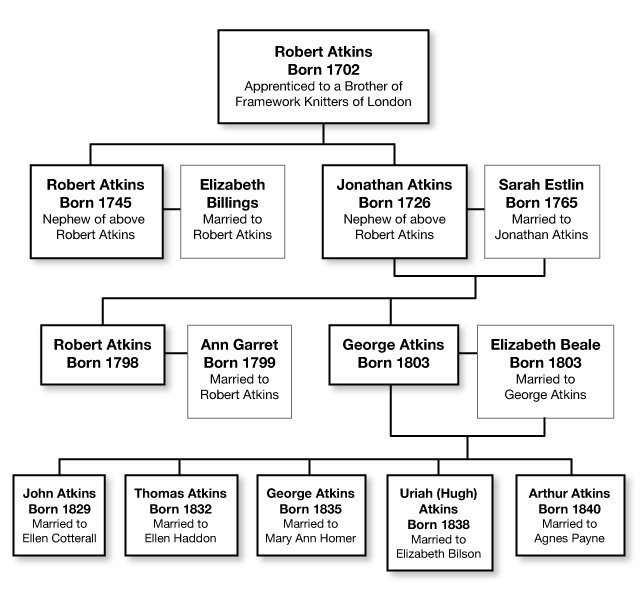 Sources
Atkins of Hinckley 1722 to 1972, Dan Styles.
Twisted Yarns - The story of the Hosiery Industry in Hinckley, Su Barton and Rhianydd Murray.