We've noticed that your computer is viewing this page in Internet Explorer 6 or earlier. Please upgrade to one of the following free internet browser applications for an optimal viewing experience: Internet Explorer (latest version) Firefox Safari
« Back to all Exhibitions
Atkins Gallery Annual Open Exhibition 2019 Travels and Transport
The Annual Open Exhibition is a local artist showcase with the 2019 theme Travels and Transport! The theme was chosen to celebrate the local area's contributions to the transport industry and the one year anniversary of the Hansom Cab's return to Hinckley!
Thank you to Triumph and Hinckley & District Museum for loaning objects to the exhibition.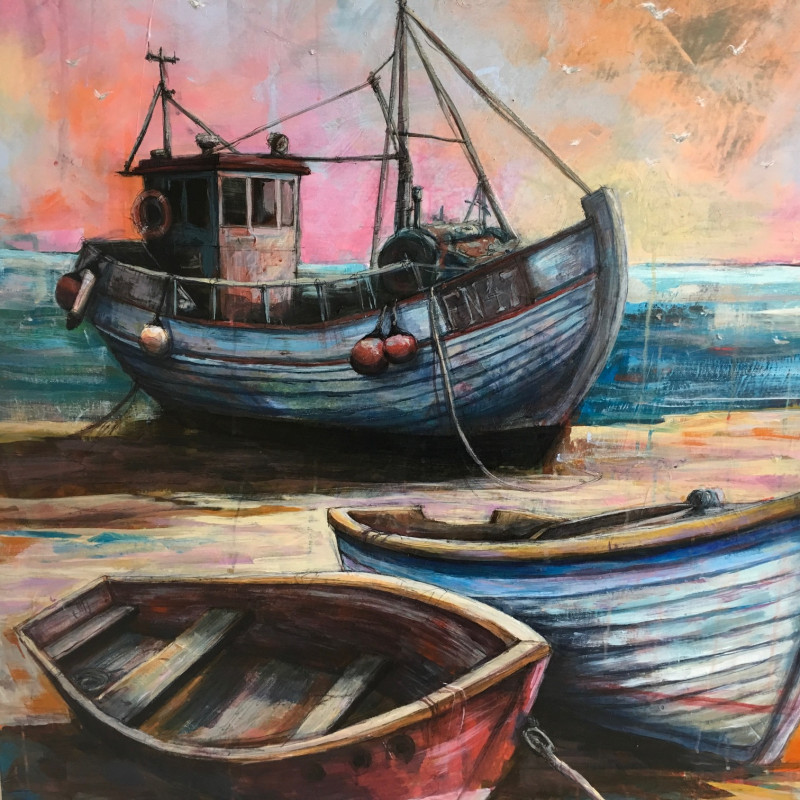 Boats in the Bay
By Josh Rollins
Medium: Acrylic
Josh Rollins
"Leicestershire based artist working primarily with acrylic paint. My style is based in reality but I often like to exaggerate colour and shape in a more abstract fashion. I aim to create paintings that are fluid and spontaneous.

These paintings were inspired by family holidays to the south coast where everyday I would see a wonderful array of fishing boats marooned on the sands as the tide retreated leaving them high and dry. A simple scene but one which immediately evokes happy memories."
Instagram @Joshrollins.art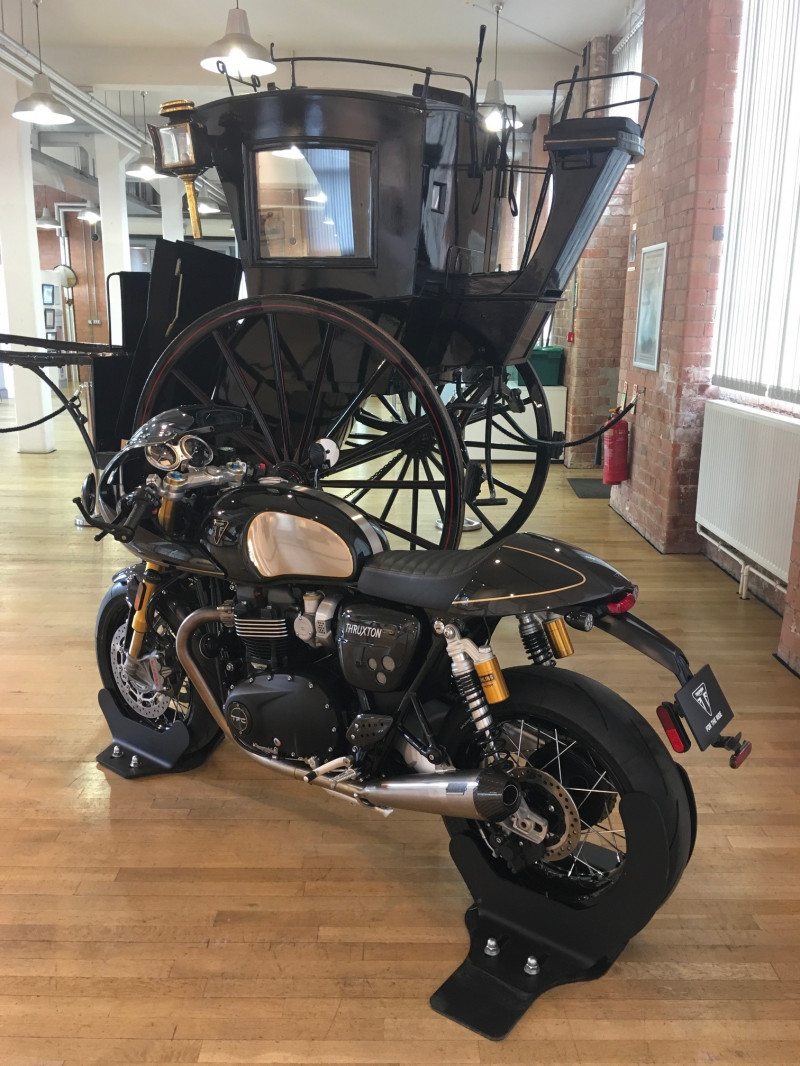 Hansom Cab and Triumph Thruxton TFC
By Hinckley and Bosworth Borough Council and Triumph Motorcycles
Medium: Photograph
Thank you to Triumph for lending a Thruxton TFC to display next to the restored Hansom Cab. Two Vehicles designed and built in Hinckley!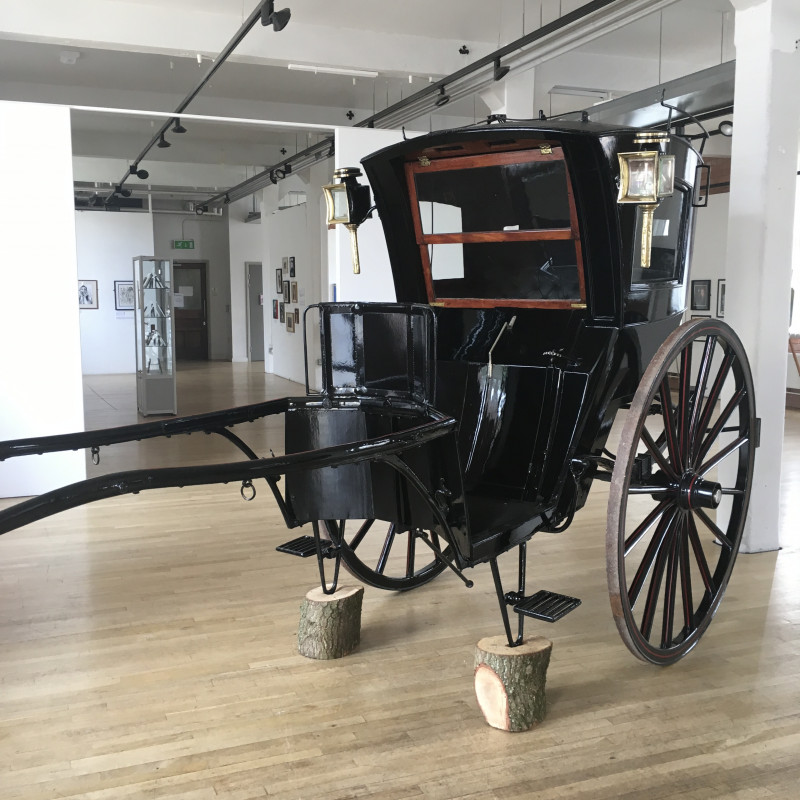 Hansom Cab
By Hinckley and Bosworth Borough Council
Medium: Photograph
Joseph Aloysius Hansom was an architect originally from York but moved to Hinckley with his family in 1834. Once in Hinckley, Hansom started work on several local projects including a conversion of a house into a bank in the Borough where NatWest Bank now stands, the Hinckley Workhouse that stood on London Road, Lutterworth Town Hall and the New Walk Museum in Leicester. He also designed numerous Catholic churches around the country.

On the 23 December 1834 Hansom registered his designs at the National Patent Office for a "safety cab". This was the first version of the Hansom Cab. Hansom used local labour to build his prototype from a workshop in Regent Street. The prototype featured wheels with a diameter of 8ft or 2.4m and offered passengers stability and privacy with its enclosed sheltered seating. This version of the Hansom Cab was recorded to have been driven along Coventry Road and Watling Street in 1835. There are two blue plaques in Hinckley dedicated to Hansom, one is in the Borough on NatWest Bank and the second is on the Edwards Centre parade of shops on Regent Street.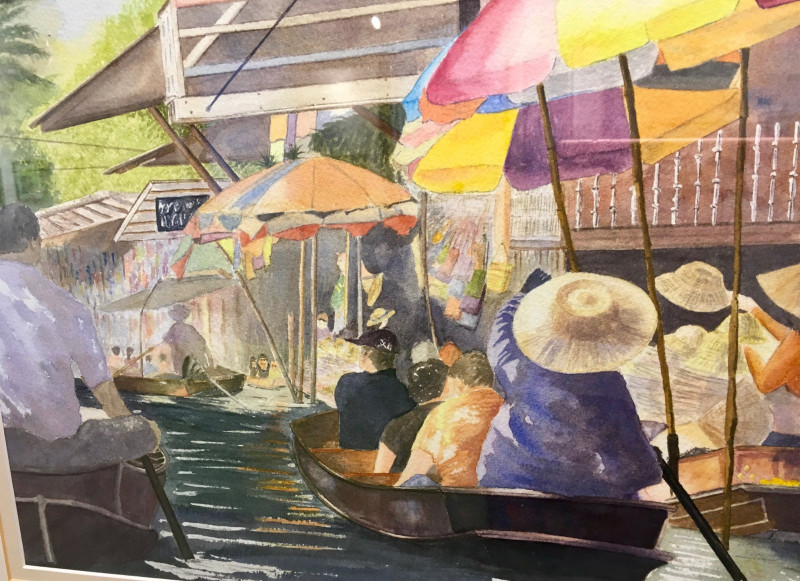 Floating Market in Bangkok
By Derek Everitt
Medium: Watercolour
Derek Everitt - "Friends of mine went to Bangkok for a holiday and sent me some photos, as soon as I saw the floating market in Damnoen Saduak which is about 50 miles west of Bangkok I just had to paint it. I have tried to capture movement and how busy the market must have been. "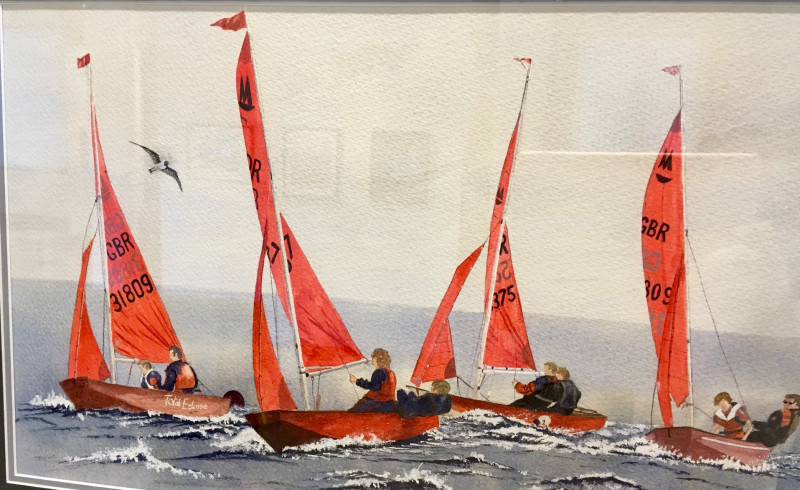 Fantastic Day
By Derek Everitt
Medium: Watercolour
Derek Everitt- "On holiday in Devon whilst walking along a cliff and looking out to sea, I watched boys and girls having the time of their lives, being shown the joys of sailing in mirror sailing dinghies. Taking a photo or two; I wanted to show the joy and fun they were having in my painting."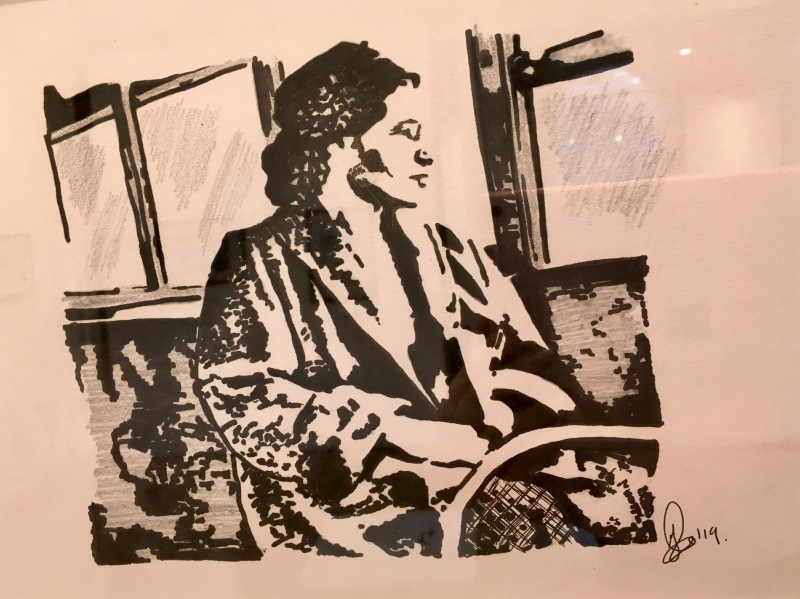 Rosa Parks, 1955, Alabama
By Jane Link
Medium: Pen and Ink
Rosa Parks was a civil rights activist (1913-2005) – known as 'the mother of the civil rights movement' who refused to give up her seat in the "coloured section" of a bus to a white passenger, after the whites-only section was filled. This A4 drawing has been completed in watercolour pen, ink and pencil and depicts Rosa defiantly sitting on the bus. In her autobiography, 'My Story', she said:
"People always say that I didn't give up my seat because I was tired, but that isn't true. I was not tired physically, or no more tired than I usually was at the end of a working day. I was not old, although some people have an image of me as being old then. I was forty-two. No, the only tired I was, was tired of giving in."
Rather than colour the drawing, the artist felt given the circumstances surrounding Rosa's initial arrest, the picture was best left as 'black' and 'white'. Instagram @janealink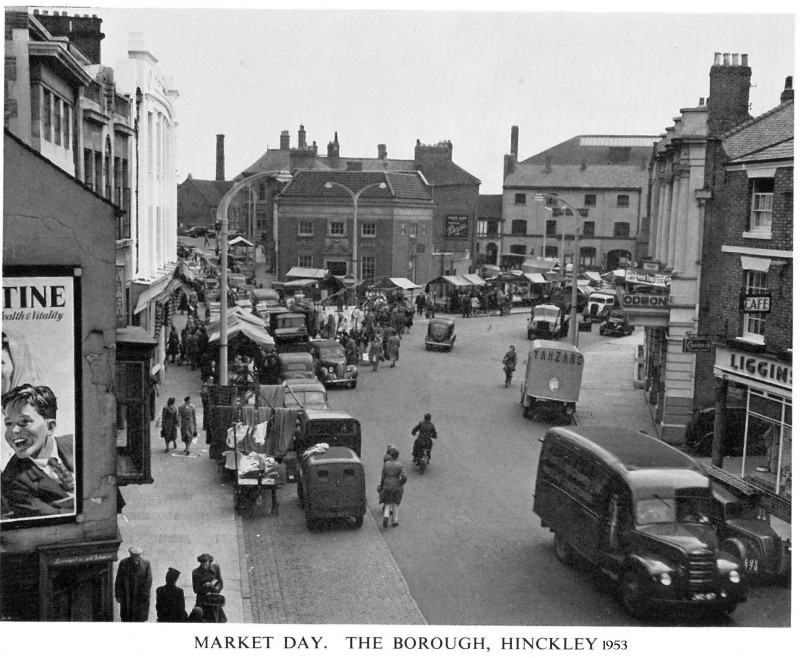 Market Day, The Borough, Hinckley 1953
By Local Publication. 1953 Queen Elizabeth II Coronation Souvenir Booklet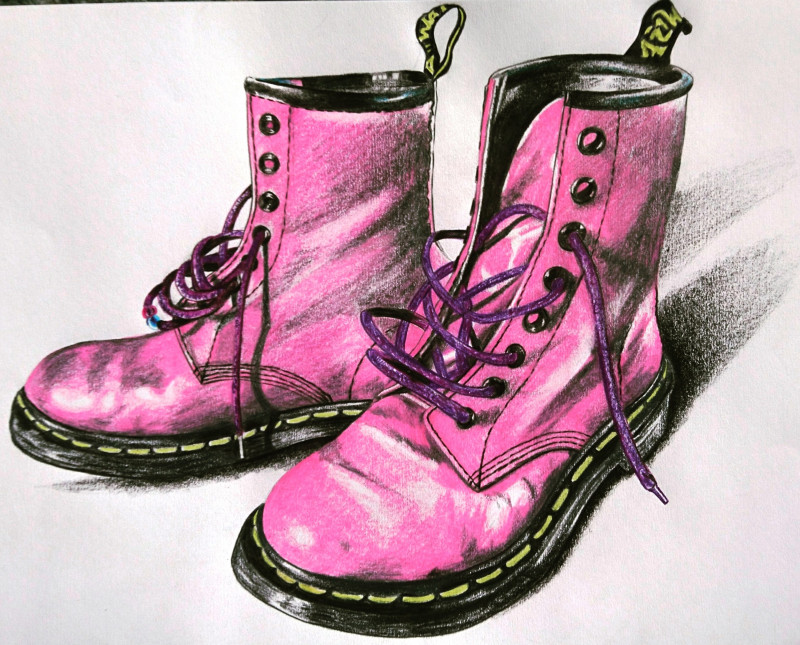 These Boots were made for Walking
By Natalie Browne
Natalie Browne - "Here is a portrait of my main mode of transport: my reliable pair of Doc Martens. I felt I owed it to them to pay tribute to their efficacy at keeping my feet safe and dry - not to mention extremely comfortable! - and for conveying me effectively from one place to another. Whether I'm out exploring the park with my dog, traveling to work and back, popping to the shops or visiting a friend, you can almost always guarantee that my feet are wrapped in these." Instagram @purplelizard1984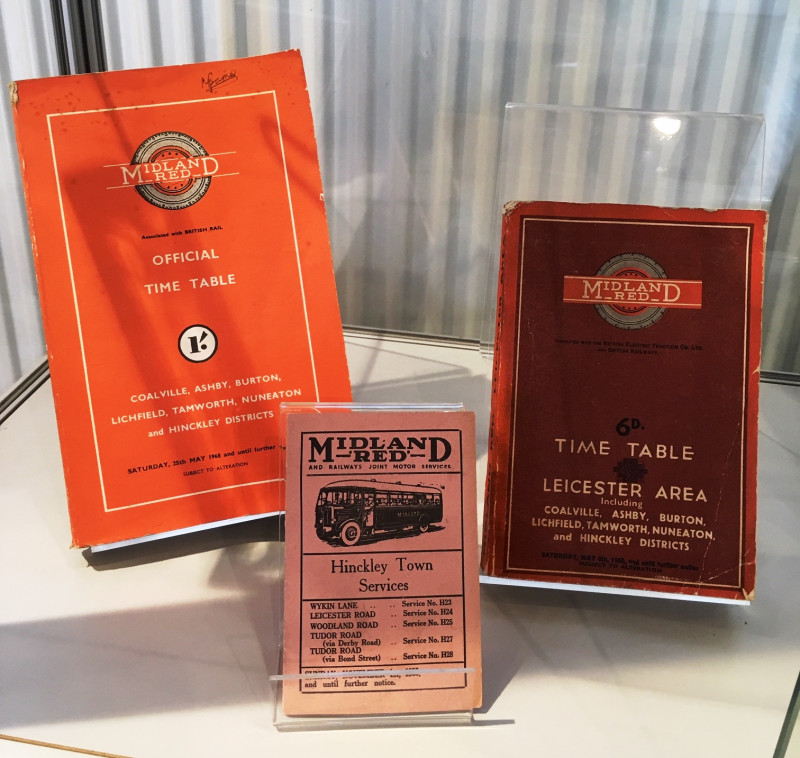 Hinckley and Leicester Midland Red Objects
By Hinckley and District Museum
Medium: 3x Timetable booklets
Thank you to Hinckley and District Museum for lending their Midland Red bus company objects. Midland Red was a bus company that operated in The Midlands from 1905 until 1981.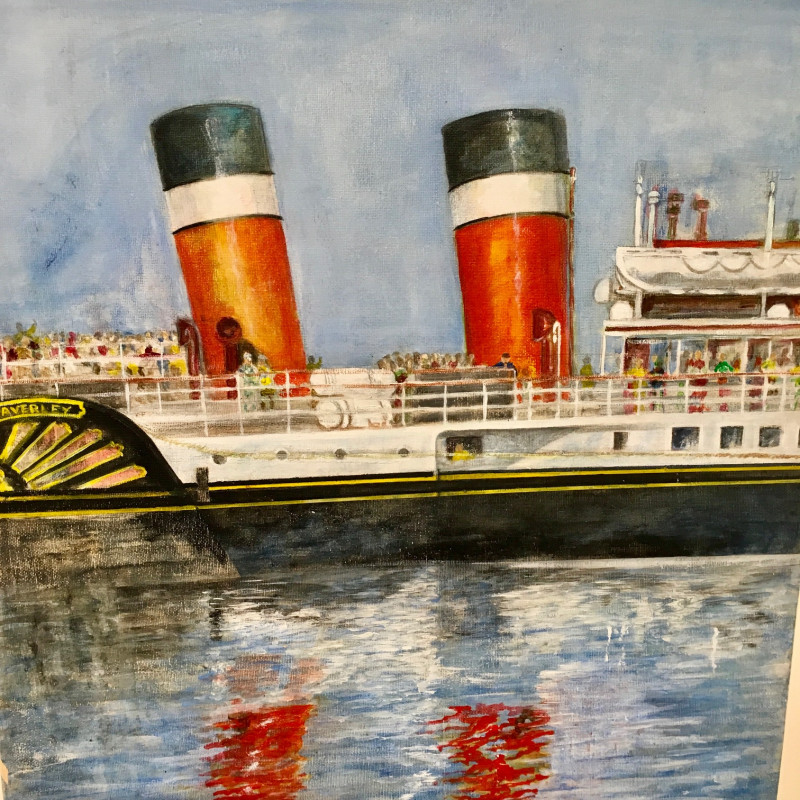 Embarkation
By Ross Kilgour
Paddle Steamer 'Waverley' was built in 1947 to replace a similar vessel lost in World War 2; this was the last ocean going Paddle Steamer ever built.